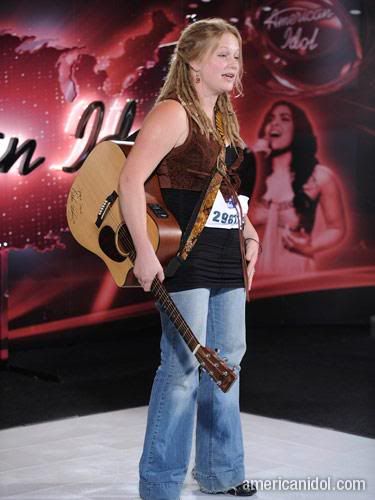 I'm in the middle of tech week for
Plaza Suite
, but I stayed up until about 11:30 last night to watch the first round of semifinals on Idol. I don't have a tremendous amount to say. I found the whole evening largely disappointing. Some women I had had high hopes for disappointed, yet others I hadn't expected much of did really well. Overall, though, the girls didn't really make a case for this being their year, as Simon has predicted. I saw a lot of stuff that would have flown back in season one or two but now, in the post-Cook/Lambert/Allen era, it just won't fly. We're looking for originality, and some of the ladies just didn't deliver.
Here are my rankings from favorite to least favorite. It's the best I can do on 5-1/2 hours of sleep.
1. Crystal Bowersox
-- Have I mentioned how much I freakin' love this chick? Not only did she get out there and sing Alanis, but she did it with a guitar and a freakin' harmonica. She is the BOMB.
Idol
will eat her alive eventually, but I love the sort of Joan Osborne vibe she's bringing to the show right now. I would buy her album. I plan to download her first song. And that baby is adorable!
2. Siobhan Magnus
-- Okay, I am so sorry I mocked Siobhan's fashion sense. Her performance of "Wicked Game" last night was sheer glory. My hero Michael Slezak said it had a Cowboy Junkies vibe, which is does and which made me remember how much I used to love the Cowboy Junkies. Note to self: Download some Junkies! I think Siobhan could be a real sleeper here if she continues to bring it the way she did last night with her original song choices and tremendous range. Love her!
3. Lilly Scott
-- Lilly is the source of some debate in our house. I love her quirky voice. My sister can't get over her freakish silver hair and peacock feather earrings. Her performance of "Fixing a Hole" last night, though, was fun, and I even got my sis to admit that if she didn't have to listen to Lilly, she was pretty cool. I suspect, though, that my sis is right when she says that Lilly absolutely cannot win. But she'll give some nice performances until she gets the boot and will probably add at least a couple tunes to my ipod in the process.
4. Didi Benami
-- Didi is another polarizing performer Chez Mel. My sis finds her voice affected. I kind of like it. And maybe I was just swayed last night because she sang "The Way I Am," a song that never fails to put a smile on my face. My sis kept reminding me of Megan Joy from last season, but I think Didi is just a bit more talented than Megan. I see the potential for some cool stuff from her, so I'm sticking with her!
5. Janell Wheeler
-- Janell really was a disappointment last night. After her awesome Hollywood Week performance of "American Boy," I was expecting her to come out with the guitar and play something equally awesome. Instead, we got a Heart song. Confession time: I've never been a big Heart fan, so I was a little put off. I didn't think Janell's performance was great, but it was better than a lot of the other ladies on this list, so that earns her a top six spot in my book.
6. Katie Stevens
-- First of all, I have to take issue with Mr. Seacrest. Yes, Michael Buble sings "Feeling Good." He COVERED it. It is not his original work. Instead, credit should go first to Anthony Newley and Leslie Bricusse who wrote the song for the musical
The Roar of the Greasepaint - The Smell of the Crowd.
Gilbert Price recorded the first version of the song for that show's cast album. The most famous, perhaps, version prior to Michael Buble's COVER was performed by the amazing Nina Simone. Most every performance that has followed owes a tremendous debt to Nina -- including Michael Buble whose version is pretty much a carbon copy of Nina's. Give credit where it's due, Ryan.
7. Paige Miles
-- Paige's performance didn't really earn her this spot on my list so much as the fact that I finally heard her sing did. She's not bad. Her song choice ("All Right Now") was kind of jank, but she seems like an appealing performer. I want to hear a little more from her before I decide whether she should be in the top 12.
8. Katelyn Epperly
-- Katelyn seems like a lovely, sweet girl. Unfortunately, they styled her like Olivia Newton-John at the end of
Grease
(in other words, 1960's slut), and her performance of "Oh Darlin" was kind of forgettable. (Seriously, I had to look up what she sang!) But she's pretty and pretty often has legs on this show.
9. Ashley Rodriguez
-- Seriously, I am struggling with this chick because she reminds me so much of Jordin Sparks, and I strongly dislike Jordin. I'm not familiar with the Leona Lewis song Ashley chose, but my sis informs me that Ashley pretty much murdered it last night. I also thought her attitude during judging was a little petulant and snotty. One thing America doesn't like is snotty, snobby Idols. Ashley may be skating on thin ice.
10. Lacey Brown
-- Oh, how the mighty have fallen. Last week, I pegged Lacey as a lock for the top 12. My sis took me to task for not ranking her higher, claiming that she thought Lacey would go all the way. When we heard she was covering "Landslide," we both were kind of excited. That's a great song. And then Lacey started singing and her voice was all over the place and she was doing that affected kewpie doll thing and suddenly Lacey's in big, big trouble.
11. Haeley Vaughn
-- Haeley, though, is in even bigger trouble. While I liked what she attempted to do to "I Wanna Hold Your Hand," giving it a youthful, country feel, her voice was just a mess, her styling was a mess, and it just did not work. I stand by my assertion that Haeley should have been given a year (or two) for her voice to mature and maybe get, um, some speech coaching to help her with the lisp that is a bit problematic in her singing. But hey, at least she got a nose ring.
12. Michelle Delamor
-- While I don't necessarily think Michelle was the worst of the night (I would give that "honor" to Haeley or Lacey), I do think Michelle is perhaps the most in danger. She's had next-to-no screen time and her performance was pretty dreadful. Seriously, sweetheart, covering "Fallin'" went out circa 2004. That sort of performance may have flown when your competition is Kimberley Locke, but it's not gonna fly in the post Cook/Lambert era. I think Michelle is in real danger.
The guys get their shot tonight, and I have to admit I'm not overly optimistic outside of hoping Andrew Garcia proves he's not another Danny Gokey -- huge promise but ultimately disappointing when the going gets tough.