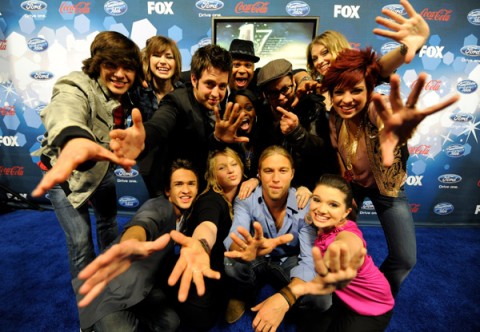 (Have I used that title before? Probably. Aw, who cares?)
The top 12 contenders for the
American Idol
title were revealed last week. There were some major shockers, some questionable choices, and the general season that this year may not be as strong as initially hoped. There are definitely several people that stand no chance of continuing on, and I'm not sure I really see any Idols who have the potential to enjoy Clarkson/Underwood kids of record sales or Lambert-esque media buzz. I could be wrong, but I still worry we're looking at a Taylor Hicks kinda season.
I'm going to put myself out on a limb here and rank the Idols. A lot of this is based on my personal preferences more than who I actually think will win, but wouldn't it be cool if I were in sync with American tweens and their speedy texting fingers? No, it probably wouldn't....
1. Crystal Bowersox
-- Yes, I worry that America may not be ready for a hippie mama blues singer to be
American Idol
, but there's no denying that Crystal is probably the best singer in the competition. I wonder how she will handle theme weeks and I worry that the acoustic guitar vibe will eventually become tiresome for American tween attention spans, but I suspect that Crystal will likely gain a big adult following and may get the same kind of bump from those adults as David Cook got two years ago.
2. Siobhan Magnus
-- Siobhan seems little more open to mixing things up, and damn, I love the quality of that girl's voice. Again, I wonder how she'll fare during theme weeks, but I have a suspicion she may hold her own better than Crystal. I mean, this is a girl who has gone from "Wicked Game" to "Think" to "House of the Rising Sun." My big concern for Siobhan is that Simon doesn't seem to like her all that much.
3. Mike Lynche
-- In a season without a truly obvious frontrunner, Mike is probably the closest thing following his gorgeous take on "This Woman's Work" last week. Mike has settled into an R&B vibe following his not-particularly-well-received take on Maroon 5 in the first week. How is he going to handle Country Week? I also think his voice is just not as interesting as Siobhan and Crystal's and his tendency towards cheesy performance moves may prove grating after another week or so.
4. Andrew Garcia
-- The general perception is that Andrew squeaked by Alex Lambert to make it into the top 12. He came in at the head of the pack but has struggled to emerge from the shadow of his legendary Hollywood Week performance of "Straight Up." I still love Andrew's vibe and the way he reimagines pop songs. I am pulling for him to stay alive long enough to prove some versatility and create another great watercooler moment.
5. Didi Benami
-- I am probably being overly optimistic placing Didi this high on my list, but her performance of "Rhiannon" last week reminded me why I had initially placed her as #1 on my list before the semi-finals started. She has a lovely tone to her voice and could have a nice little career in today's market full of Cobie Callaits and Ingrid Michaelsons. Again, proving her versatility and controlling her nerves will be her biggest challenges.
6. Lee Dewyze
-- The most controversial figure in the top 12, at least at Chez Mel. I love Lee's gravelly voice. My sister thinks he looks like a guy who carries roofies on him at all times -- just in case. I think he has the potential to pull some David Cook kinds of tricks out of his bag, though, and he may keep the show exciting.
7. Casey James
-- Casey is cute, I get it. But he's also kind of dull. I don't know that he will be able to do as well when he's swimming in co-ed waters. Crystal and Didi do a much better job at that guitar-strumming vibe. One bad week, and Casey will be gone.
8. Tim Urban
-- Tim snuck his way into the semi-finals, and he snuck his way into the top 12. Yes, he had a great performance last week with "Hallelujah," but the truth is that he probably should not be here -- not when Alex Lambert is home crying into his pillow. Tim's cuteness will probably allow him to sneak onto the
Idol
tour, but that's about the extent of it.
9. Lacey Brown
-- Once upon a time, I thought Lacey could be a contender. Now, I find her boring and affected. She's a stronger singer than the three listed below her, but America will most likely not put up with her kewpie doll voice and stupid smile very long.
10. Katie Stevens
-- Katie most definitely should not be in the top 12, now when Lilly Scott and Katelyn Epperly are not here. Katie has a nice voice; the problem is that she's boring. We have long moved past the days of clean cut, peachy keen Idols. Heck, we've never had a clean cut, peachy keen Idol. Even Kelly Clarkson had an edge to her voice. Carrie Underwood was clean cut, but again, listen to her voice. Katie may make the tour, but I can't see her lasting too long beyond that.
11. Paige Miles
-- Paige should not be here. I know Simon keeps saying she has the best voice in the competition, but when are we going to hear that? We definitely haven't yet. Her "Smile" last week was a total travesty -- a butchering of a beautiful song. How she made it to the top 12 is beyond me, but I really can't see her "charm" lasting much longer.
12. Aaron Kelly
-- Aaron should not be here. His performance of "I'm Already There" last week was painful. He's yet to have a moment of pure "wow" and I'm not sure the kid has such a moment in him. Like Haeley Vaughn and Katie Stevens, Aaron really could use another year or two of pure vocal training to work out some of the flaws that he has. He would be better off spending the summer in such training than hitting the road. I shudder to think what he'll do with the Rolling Stones, but I suspect it will be bad enough to send him home quickly as the tweens will likely cast their votes for the far cuter Tim Urban.