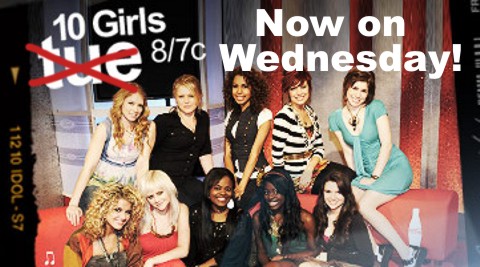 The girls of Idol took the stage last night and while I'm not doing emotional somersaults of joy at how vastly better they were than the gents the night before, the truth is that they WERE vastly better than the gents the night before. Not that every performance was perfect or all that exciting, but there were definitely more performances that made me smile or had me thinking, "Yeah, I'd download that" than any of the other performances we've had so far.
The big question going into last night was whether Crystal Bowersox would be able to perform. She was taken to the hospital Tuesday morning, which prompted producers to switch the performances so that the boys went on Tuesday. As of yesterday afternoon, her status was still unknown. But mercifully, there she was last night, looking a little pale, a little sickly, but a whole lotta awesome when she opened her mouth to sing. She most definitely emerged last night as the one to beat, at least according to the judges, and remains my favorite.
Here are my rankings from last night:
1. Crystal Bowersox
-- Crystal took a big gamble, kicking the night off with a cover of CCR's "Long As I Can See the Light" -- a more obscure song from CCR's pretty extensive catalog. The gamble ended up being a smart move because she gave us a performance we could "discover" with not necessarily an iconic tune with which to compare it. It was moving (particularly considering her backstage drama), gutsy, and really entertaining. I love this chick and love her even more for not correcting Kara when she said Crystal had performed "You Oughtta Know" last week. (Although who wouldn't LOVE to see someone have he cojones to tackle that mofo on the Idol stage??)
2. Kaitlyn Epperley
-- Yeah, I'm shocked by this ranking, too, but I really enjoyed Kaitlyn's stripped down performance of Coldplay's "The Scientist." Okay, yes, it was maybe a touch on the slow side, but it was quite lovely and, again, quite moving. It forced me to reconsider Kaitlyn and her chances for hitting the road this summer. She may have it after all.
3. Lilly Scott
-- Still love Lilly although I wasn't quite as jazzed about her "A Change is Gonna Come" as I wanted to be. Perhaps my head is still ringing from the power of Adam Lambert's finale performance of it last year. While I appreciated her more restrained take on the song, I missed the drama, too. And I still wish Lilly would get a little styling assistance.
4. Siobhan Magnus
-- I liked Siobhan's performance of "Wicked Game" so much better last week because I thought it showed an originality and a risk that was lacking with this week's choice of "Think." The Siobhan who performed "Wicked Game" -- I would buy that chick's CD. The Siobhan who performed "Think" -- not so much. I do like her quirkiness. I just want her to bring back that alterna-edge I sensed in "Wicked Game" and leave the Aretha throat gymnastics to the lesser divas. (Wouldn't it be great to see Siobhan maybe doing a little Liz Phair?)
5. Paige Miles
-- Maybe I'm starting to "get" Paige. She does have a nice voice and her performance of "Walk Away" was a solid one. I still keep thinking, though, that she's kind of old-school Idol and that the show has progressed past the sort of serviceable diva that Paige represents. In the post Cook/Lambert years, a good voice just isn't enough. Paige would have probably been great in the early years and could have given, say, a Kimberley Locke or LaToya London a run, but this year? I worry for the girl.
6. Michelle Delamor
-- I think the same holds true or Michelle. She would have been a terrific addition to season 3, but here . . . I worry. I did appreciate Michelle thinking outside of the box and giving Creed's "With Arms Wide Open" a kind of sexy, soulful vibe. It's just too bad that she chose Creed, but as long as she steers clear of Alicia, Whitney, or Mariah and keeps up the more progressive song choice, she may be able to sneak her way into the top 12.
7. Katie Stevens
-- I hate how much this girl bores me. She seems like such a sweet little girl, but . . . .sigh. After a bland performance of "Feeling Good" last week, Katie went contemporary -- adult contemporary -- with Corinne Bailey Rae's "Put Your Records On." I remember very little about it. It was ... nice. It didn't suck. But it also wasn't as interesting as any of the six women listed above. Katie is quickly becoming forgettable, and that's not a good thing.
8. Didi Benami
-- Oh, how the mighty have fallen. Before the semifinals started, I had Didi listed as my number one choice to make it to the top 12. Her Hollywood Week work seemed to make her a shoe-in. And then . . . . sigh. After a lackluster, affected performance last week, Didi came back this week with an almost painful "Lean on Me." It is a song that's just not right for her voice, and the poor girl was annhilated by the judges. She kind of broke my heart....but pity does not move you higher on this list. Usually.
9. Lacey Brown
-- I've decided that Lacey annoys me and I am ready for her to go. She made the decision to take Kara DioGuardi's advice (WHO DOES THAT?!?!?) and performed "Kiss Me" by Sixpence None the Richer. It was affected, precocious, and just uninspired. She seems like one of those people who thinks she's really cute and plays it up, but sweete, when you are pushing your mid-20's, adorable just doesn't cut it anymore.
10. Haeley Vaughn
-- Speaking of adorable . . . . . When Haeley said that she had chosen to cover Miley Cyrus's "The Climb," I groaned aloud. How cliche. How uninspired. How painful! Again, Haeley seems like a very nice young woman, but that perma-grin of hers is irritating. When Kara told her she needed another year, I very nearly threw something at the screen. IF SHE NEEDS ANOTHER YEAR, WHY THE FUCK DID YOU PICK HER FOR THIS YEAR?!?!????!???? It's not Haeley's fault that she's competing a year too early; IT'S YOURS! I have a hard time imagining Haeley not going home this week unless God decides he likes her, too, and gives her the Jermaine Sellers treatment ... or people feel bad for the grinning little Southern belle. People, keeping her around longer is not kindness; it's downright cruel!