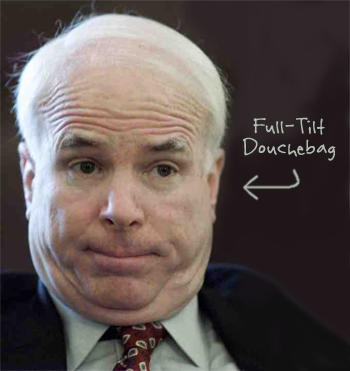 I've talked before about why I could never run for president. There are some skeletons (and photographic evidence of said skeletons) that would come back to haunt me and destroy my candidacy. In addition, I'm just not smart enough to be president. I mean, trying to follow this economic crisis over the past several weeks has left me feeling like a first grader trying to read Anna Karenina. I would not be the person to make these crucial decisions about our economy. I can't even balance my freakin' check book.
Last night, though, I realized the most important reason why I could never be president. See, here's the thing. If I had been debating John McCain last night, I would probably be in jail today because I don't know if I could have refrained from punching McCain in the face. I'm not a particularly violent person, but McCain so riled me last night that at one point I yelled at Obama through my tv screen to punch McCain for me. He was so smug and dismissive and frankly offensive that I was enraged. Whether it was the air quotes around "health of the woman" when he talked about abortion policy or his continued push for school vouchers, I was just disgusted.
(Just one thing about school vouchers: I have a serious problem with the idea. The answer to a struggling school is not to pull students from said school and send them to the "better" schools. The answer is to help those schools to stop struggling by investing some money and recruiting teachers, providing resources, and breathing new life into these schools. At a later date, I'll share with you an "insider's" view to No Child Left Behind and the damage it's done to our schools and our students. Oh! And one other thing -- if Joe the Plumber is pulling in more than $250,000 a year, I have a hard time feeling a lot of sympathy for him when I'm struggling to make ends meet with the paltry sum I bring home every two weeks as a teacher.)
I was impressed by Obama's restraint last night. I was impressed by his cool and his intelligence. I was impressed that he didn't clean McCain's clock. Any guy who can keep his cool when faced with that kind of arrogance and condescension is a far better person than I am and is far better qualified to lead this country.