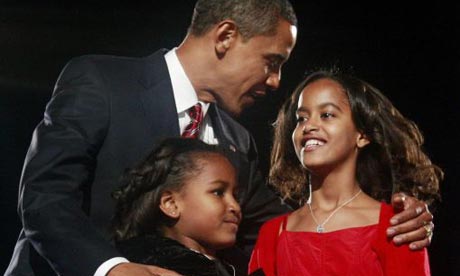 Danielle posted
here
about her frustration with the media focus on Michelle Obama's fashion choices, feeling that it negates the accomplishments of an intelligent, successful woman. While I agree with Danielle's post 100%, there's something else that troubles me even more.
It's
this
. Or maybe it's
this
.
Yes, I know it's exciting to have children in the White House, but the public frenzy over them is beginning to border on creepy. Wanting to know how tall they are? Who cares? Searching for information about them and the Jonas Brothers? Icky!!
I think the idea of them being turned into dolls upset me even more since this is less curiosity and more along the lines of theft. The Beanie Baby people have essentially stolen the images of two children with an eye towards their own profit. We're supposed to accept that two clearly African-American dolls are named Sasha and Malia by COINCIDENCE? Right! I know that all of this puts President and First Lady Obama (oh, how I love typing those words!) in a bit of a sticky situation -- their parental instinct to protect their children versus not wanting to seem like spoil sports. So perhaps it's up to us to let these little girls grow up in as much peace as their new life affords. They're already under a magnifying glass. Can we maybe make sure that the sun isn't shining too brightly on them while they're there?